Stainless steel plunge pool, a luxury in miniature version.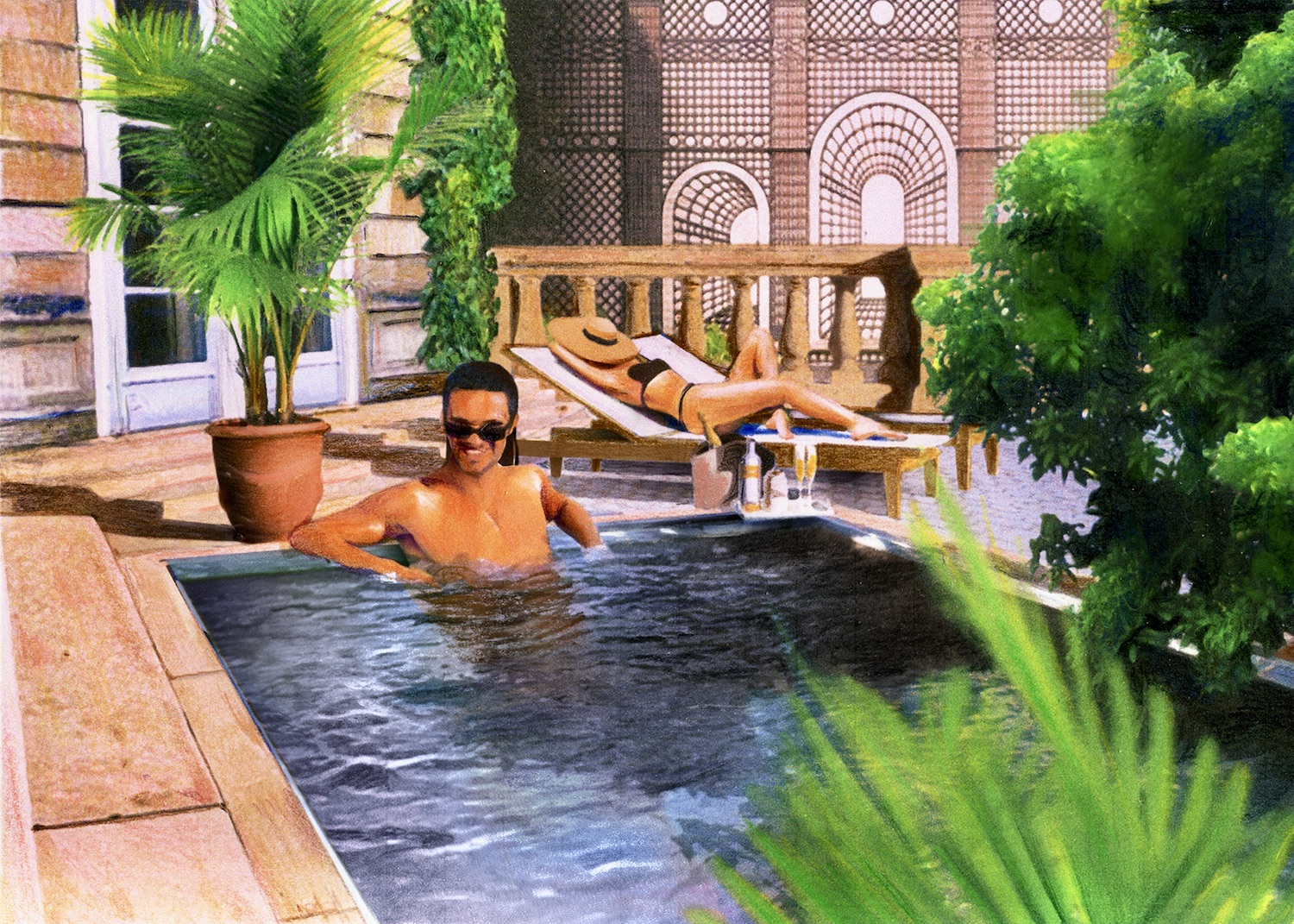 Francais – English
Linoxydable offers a range of 100% 316L stainless steel plunge pools with pure shapes. Very similar to our classic pools, their dimensions are much smaller. Ultra-compact, our plunge pools are sufficient to enjoy the pleasures of water and even to swim, all with minimal bulk.
Monobloc and self-supporting, Linoxydable small pools can be installed buried, semi-buried or above ground. Their small size (less than 10m²) and their lightness allow easy installation almost anywhere: courtyard or little garden in town, villa, roof terrace, veranda, patio or even inside your house, yachts…
So even if you lack space and live in town, the plunge pool is the solution: it adapts to all situations and allows you to enjoy the pleasures of swimming. Plunge pool is the ideal size for cooling off, relaxing with friends or providing a play area for your children.
---
Our range of RTS stainless steel plunge pools. (Ready To Swim).
CARRÉ (SQUARE) : For a sober and refined look.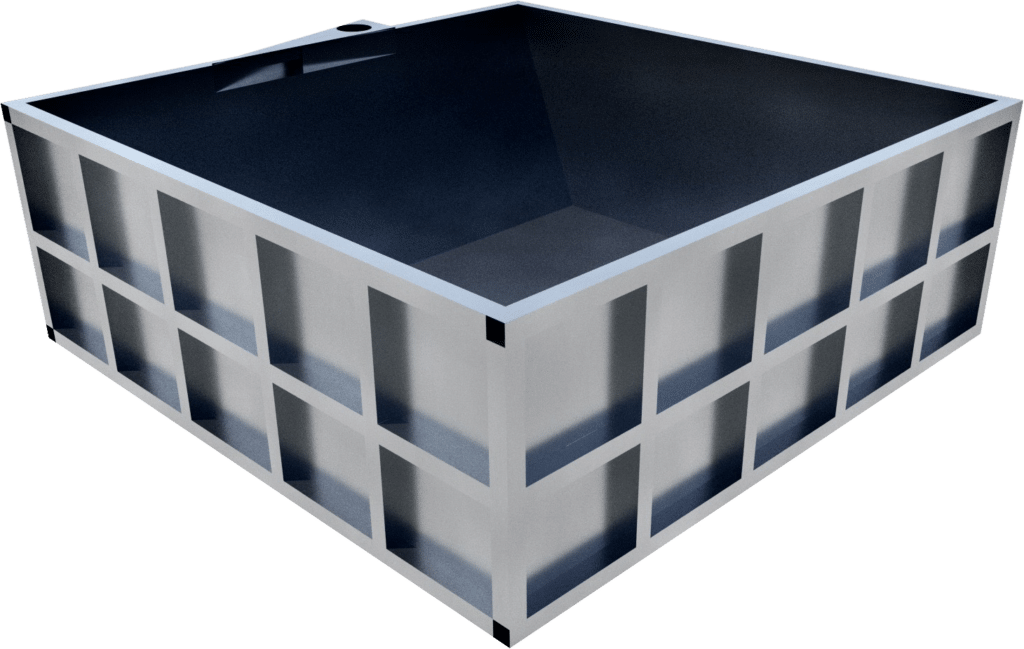 CARRE XS :
Size: 2m x 2m / 6′ 7″ x 6′ 7″, i.e. an area of 4m2.
available in two depths : 90 cm / 2′ 11″ or 1,2m / 3′ 11″
100% 316L stainless steel (walls and structures).
CARRE Pi :
size : 3,14m x 3,14m / 10′ 4″ x 10′ 4″ – i.e. an area of 9,86m2.
available in three depths : 1,2m / 3′ 11″ – 1,35m / 4′ 5″ or 1,5m / 4′ 11″.
100% 316L stainless steel (walls and structures).
RATIO S : the right proportions.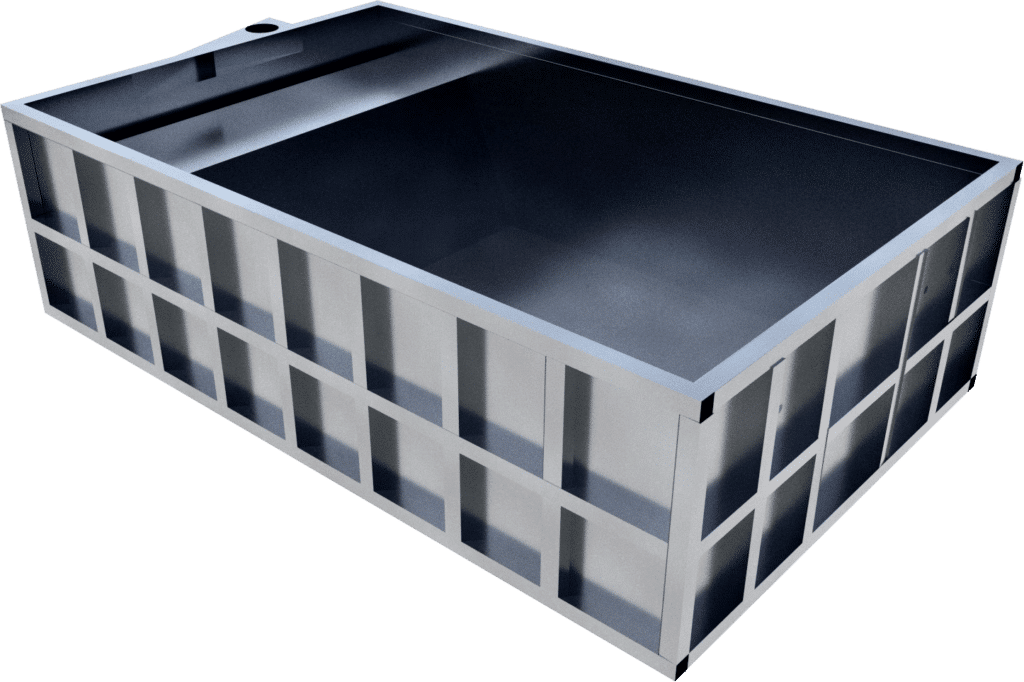 RATIO S :
size : 4m x 2,48m / 13′ 1″ x 7′ 6″ – i.e. area of 9,92m2.
available in three depths : 1,2m / 3′ 11″ – 1,35m / 4′ 5″ or 1,5m / 4′ 11″.
100% 316L stainless steel (walls and structures).
---
Our tailor-made stainless steel plunge pools :
If our RTS formats cannot be adapted to your space or you have a precise idea of the shape or the size of your stainless steel plunge pool. The field of possibilities is very vast and adapts to each styles and all desires.
Linoxydable accompanies you and offers you the possibility of building a swimming pool with you, according to your design and your desires: a true architectural object, it can take a round, square, rectangular, hexagonal and even free form. Every project goes through a design office. The latter ensures the feasibility and, if necessary, makes the necessary modifications for an optimal result. Our "tailor-made" pools will be designed specifically for you whatever the constraints: shape, surface, accessibility, etc.
Tell us your expectations, we will offer you a unique and tailor-made model,

designed for you according to your requirements.
---
The options :
Our stainless steel plunge pools have everything they need with their options such as a counter-current swimming system, hydrojets, heating, etc.
Linoxydable offers several customization options for all its pools. Indeed, many options are available and allow you to adjust your pool according to your wishes: lighting, stairs, ladders, counter-currents, integrated roller shutters, submerged beaches, benches, etc.
Our customers have unique creations perfectly adapted to their desires and tastes.
Plunge pool and sports training are not incompatible: A well-equipped pool will allow you to train by integrating a counter-current, a swimming harness or underwater fitness equipment such as an aquabike. It should be noted that a shallow depth is ideal for aquagym sessions…
For more comfort, you can integrate submerged furniture, various nozzles and massage jets into your pool.
Of course, sport and relaxation are not incompatible, these two types of facilities can be installed in the same pool.
---
Plug & File : Water filtration for your stainless steel plunge pool :
Linoxydable offers to install a completely pre-equipped and calibrated filtration system for your plunge pool. Mounted on a pallet, installation is very easy: once in place, all you have to do is connect it and the pool is ready to be filled.
---
Ozonex: the water treatment for your stainless steel plunge pool :
Linoxydable recommends and offers for all its stainless steel spas & swimming pools the treatment of water by ozone, the most effective and healthiest system for your stainless steel swimming pool.
Filtered water is treated with ozone, a natural gas with a much higher disinfection potential than chlorine. It destroys all organic matter, bacteria, germs and viruses. Ozone acts on pollutants by improving water transparency. Finally, it is a means of eliminating stubborn earthy, musty or pharmaceutical odors without leading to the appearance of tastes as is the case for chlorinated derivatives.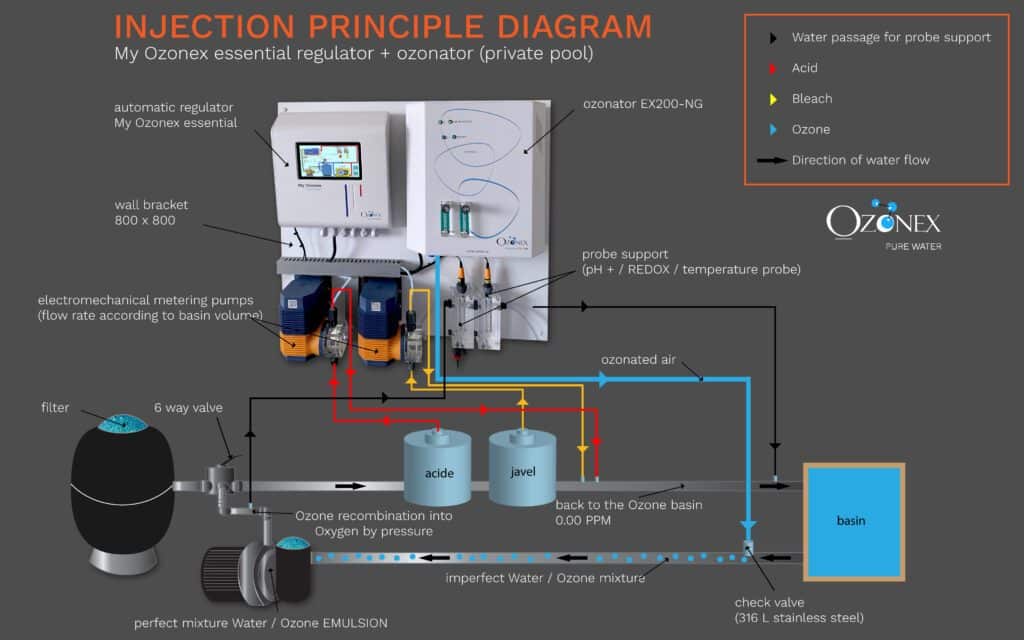 The water is then perfectly sterilized, without taste or smell.
Ozone offers swimmers a perfectly disinfected pool which is no longer synonymous with aggressive water and thus eliminates all skin irritations and all attacks on the eyes and hair.
We opted for the system proposed by the company OZONEX, a French company specializing for more than 27 years in water treatment.
For all our stainless steel plunge pools (less than 15 m³) we offer the Smart'ozo ozonator combo + integrated automatic regulator / ORP for water treatment.
Water treatment by OZONEX:
Unequaled water quality, no more damage to the skin, eyes and hair.
Economic (energy, water, products).
Ecological, no toxic discharge, no chemical consumables for the production of ozone.
Natural, an ozonator uses only ambient air for the production of ozone.
---
The submerged roller shutter :
The roller shutter has several advantages for the swimming pool: First of all, it is a safety element for the pool. It also prevents it from getting dirty.
Then, it avoids the cooling of the swimming pool and therefore makes it possible to extend the swimming time, especially in the off-season. And the roller shutter prevents evaporation.
The submerged shutters of our stainless steel pools are made exclusively by Maytronics.
The integrated roller shutter, the secure solution for year-round use of your stainless steel plunge pool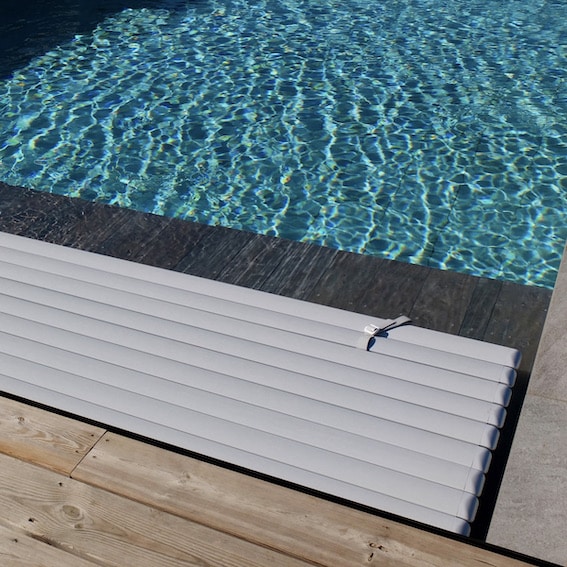 ---
Swimeo : counter-current swimming technology:
More powerful than conventional jets or counter-current swimming pumps, Swimeo is the best compromise between power and swimming comfort.
Choosing a mini pool does not necessarily mean giving up swimming.
Linoxydable suggest, for its 316L stainless steel swimming pools, Swimeo. This new silent counter-current swimming technology is proposed by Sirem. Present for 30 years in the swimming pool sector, Sirem has acquired experience in the development of electrical systems operating in wet or submerged environments.
The integrated Swimeo swimming turbine is the ideal accessory to combine with our stainless steel mini-pools. It allows you to practice sports swimming on site and therefore maintain your good physical condition.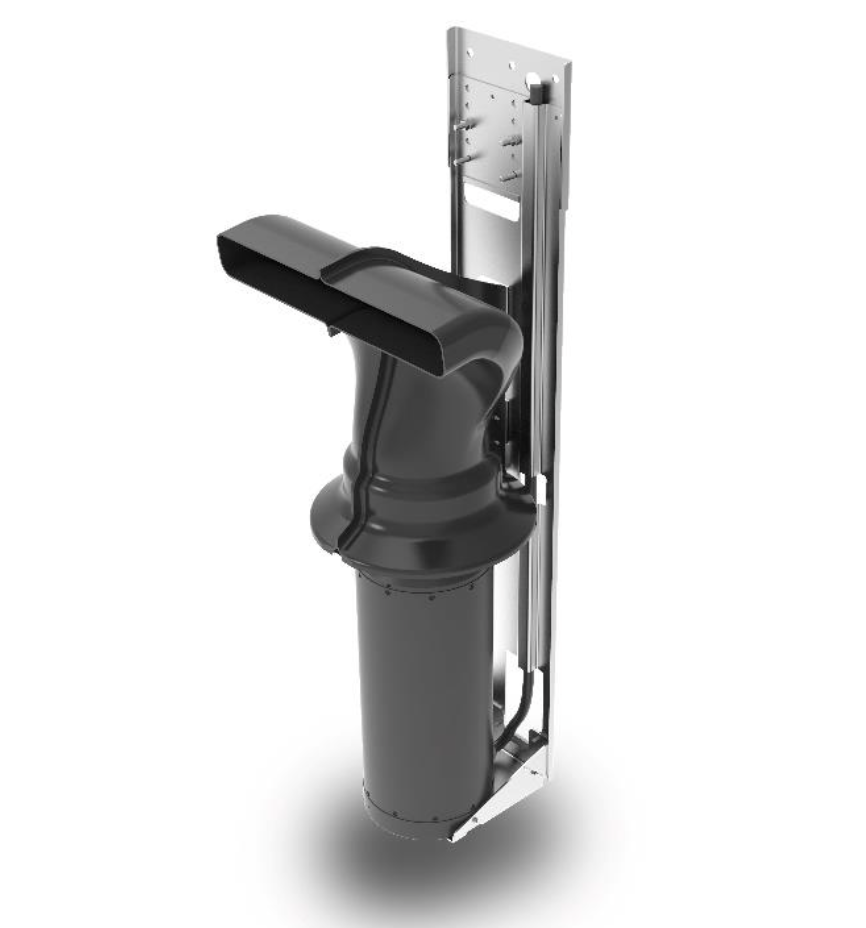 ---
Related pages: